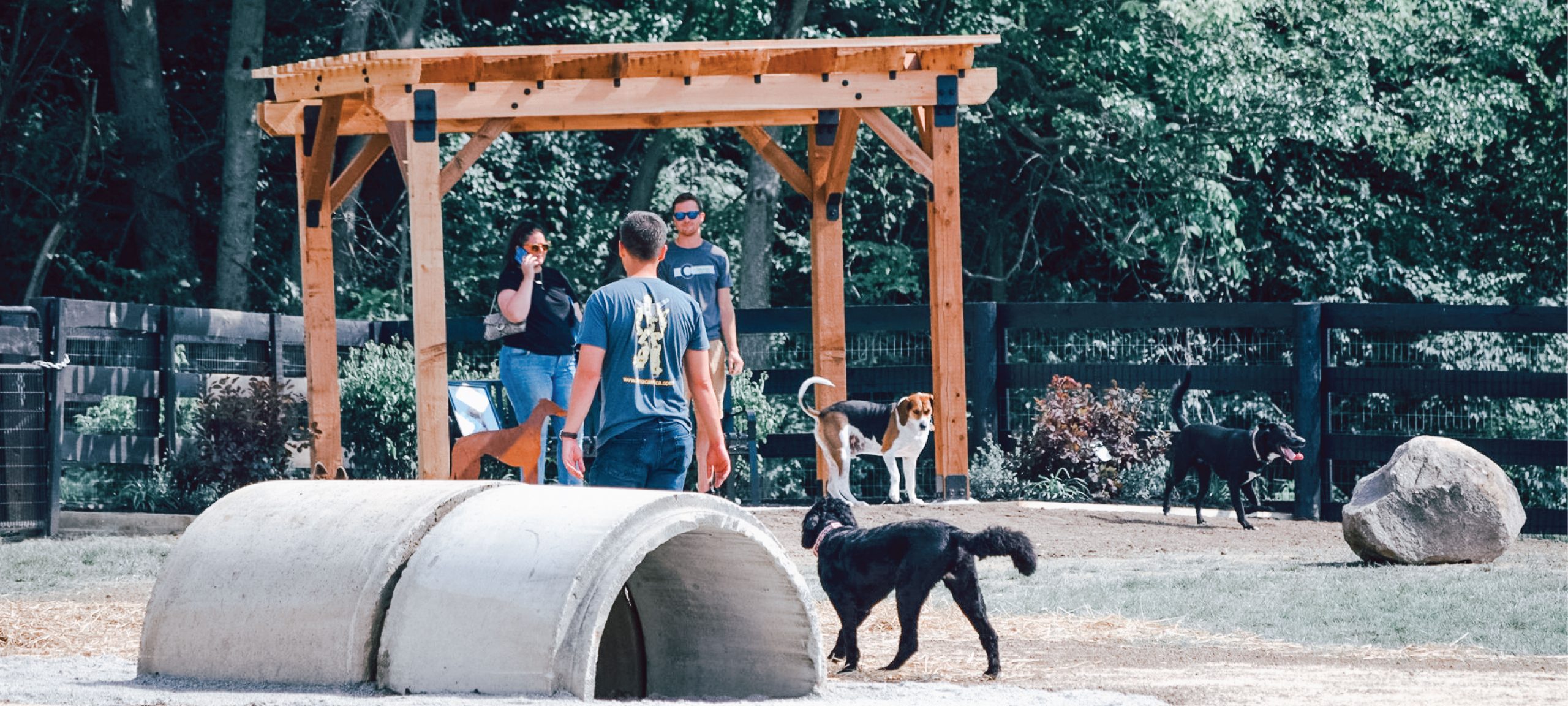 Did you know that Miamisburg has the only Dog Park with screening process and membership in the Dayton area?  
To join Miamisburg's Canal Run Dog Park, one must: 
Pay a $20 annual registration fee.

Answer a few questions about you and your pups.

 

Provide vet records to show up-to-date Bordetella, Rabies, and DHLPP vaccinations. 

 
While this may be a little different than what most dog lovers are accustomed to, this membership model provides many benefits to pups and their humans.  
You can be sure that you pup's playmates are up-to-date on their shots.

To receive a Canal Run Dog Park membership, a person must provide vet records which prove the vet-recommended vaccines are 

up-to-date

. 

 

All members must provide contact information

. No random strangers, here!

 

 

Only approved members with all contact information are permitted in the park.

Membership is not granted to those that do not meet pet qualifications. 

 

Unaltered pets, puppies under 4 months old, and dogs with an aggressive history are not permitted to have a Canal Run Dog Park membership. These rules are in place to ensure your pup has friendly company.

 

You are joining a community of dog lovers.

 

As a member, you will gain access to the Canal Run Dog Park Facebook group to make friends, learn more about the park, and schedule doggie play dates!

 
How Do I Register?  
To start the registration process, click here to pay the $20 registration fee and answer a few questions. Shortly after completion of payment, you will receive an email with a link to upload your pet's vet record. Vet records must show up-to-date proof of Rabies, Bordetella, and DHLPP (also known as the distemper shot, or distemper, hepatitis, parainfluenza, and parvovirus shots combined). Once your vet records are successfully submitted, your application will be reviewed. Staff will reach out to you within one business day with questions or to inform you how to procure your new membership card! Memberships are good for one year, then will require a renewal. As a member, you will be expected to keep shot records up-to-date. 
Amenities  
Miamisburg's Canal Run Dog Park is a well-designed and aesthetically pleasing dog park located in Community Park. It's three fenced and secured areas are organized by dog size to ensure your pup as appropriate playmates. The park includes a water fountain for dogs and their humans, benches and dog waste stations. The entrance to the park is secured by a locking gate, followed by a fenced-in unleashing area. Dog-centered pop-up events take place at the park, and members always get in for free! 
Existing Members
Click Here to renew your membership.
Click Here to upload updated vet records or add another pup to your current membership.
Click Here for Canal Run Dog Park's Facebook page.
FAQs
How will the entry to the Park be enforced?
The main gate to the park will be an automatically locking gate. Each household will receive one key card to open the gate upon completion of registration. Staff and volunteers will also be monitoring the park each day to assist with any questions or situations.
Why does my dog have to be spayed or neutered? What if my vet recommends against it?
Yes, your pup(s) must be altered. While many unaltered dogs are very well behaved, some can be aggressive if they are not spayed or neutered. Additionally, the combination of un-neutered dogs with a female dog in heat could cause quite the commotion. There will be no exceptions on dogs who are not spayed or neutered.
Do you require an active registration to enter the Dog Park?
Yes. However; events will be hosted at the dog park periodically that is open to the public. At these events all dogs are welcome to come and play. These events are a great chance to try out the dog park and see if it is a good fit for your pup and your family.
When does the 'One Year' registration start?
Each registration will start on the day your registration is approved. Renewal is one year from approved registration date.
What about my puppy?
Dogs must be at least four months old to visit the park. While everyone loves a puppy, puppies cannot meet the vaccine requirements and are not yet able to be altered, making them ineligible for membership.
Lost key cards can be replaced for a fee of $10 each.
Canal Run Dog Park is located at 550 S 1st St, Miamisburg, OH 45342. For any questions regarding registration or the park, please email play@cityofmiamisburg.com or call 937.866.8999.