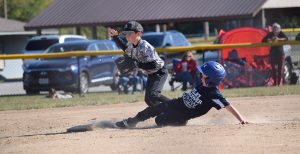 MBSL Information & Registration
The Miamisburg Baseball & Softball League was formed in 2017 to meet the need for a recreational baseball and softball organization within the Miamisburg community. Since its inception, the league has grown to be the home for over 600 players annually!
MBSL is very proud to be the youth recreation provider for young Miamisburg athletes! Recreational opportunities consist of a spring and fall league, and in addition, the league hosts various clinics and programs for players and community members throughout the year. We strive to provide options for all ages and skill levels.
Our Vision
The vision of the Miamisburg Baseball & Softball League is to provide quality baseball and softball opportunities with a focus on player development, team experience, and preservation of the recreation program and participation at the historic Rice Field.
MBSL will be a quality resource for individual player development for both skills and emotional wellbeing.
MBSL will provide the opportunity for the community to participate in the team atmosphere. Healthy team dynamics will be promoted to foster sportsmanship, comradery, and community within the MBSL League and Miamisburg Community at large.
Operational and financial planning will emphasize the sustainability and quality of the program and preservation of Rice Field for future generations of players.