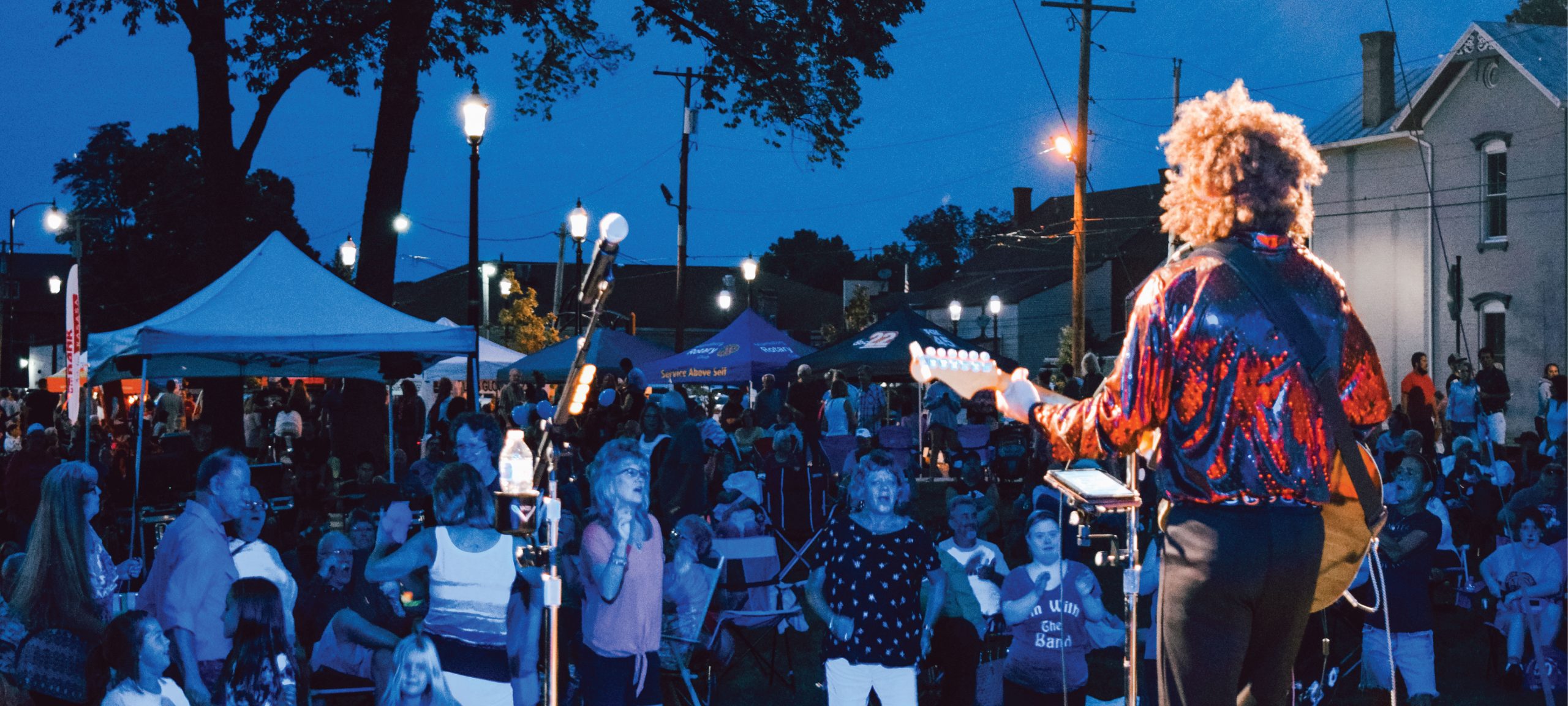 We all missed the social gathering and community building that happens at our community events. This year, we are excited to be able to bring back many of the events that make Miamisburg an event destination. Our motto for events has been: to make sure that events in 2021 are better than 2020, but be ok if the events aren't like they were in 2019. This means that all our effort has been focused on being able to bring the community together again in a safe and responsible way. We may not be able to have festivals that bring thousands of people at a time into a single venue with multiple attractions, event elements, vendors and entertainment, we do believe we can safely bring groups to enjoy Riverfront Park for an evening concert, a car show, or host a 5K. These will all have some limitations that will mean they are not truly "back to normal", but we have worked hard to ensure that they will be high-quality events, are safe, and allow us to get together again.
Car Shows
Nothing feels like summer more than car shows. Check out the latest upgrades, see how a classic has been restored, or use this as an excuse to get out of the house. We host multiple car shows each summer and 2021 will be no different. As with other events, the number of cars may be limited or spaced to ensure distancing is met, but that won't stop you from being able to peer under the hood of these beauties. Check out PlayMiamisburg.com for upcoming car show details.
Cruise the Burg (vehicles only): Saturday, June 26
Thunder Burg (bikes only): Saturday, July 17
2nd Street Car Show (vehicles only): Saturday, August 28

2nd Street between E Linden Ave. & E Lock St.

Thunder Cruise (bikes and vehicles): Saturday, September 25
Athletic Events
Did you gain your COVID-19 and are looking for a way to get back in shape? Check out our lineup of 5Ks and other athletic events this year. Each will have a limited capacity and will utilize safety measures like rolling starts and contactless aid stations, but each event can be your opportunity to get into shape, hit a new PR, or simply enjoy the outdoors. Check out PlayMiamisburg.com for upcoming athletic event details.
---
There is always something happening in Miamisburg! Miamisburg Parks and Recreation strives to reach diverse populations with varied interests, skill levels and age groups with a wide variety of special events.
Outdoor concerts, children's entertainment, a triathlon, festivals and fireworks make Miamisburg a favorite for year-round events.
Start now by exploring all Miamisburg Parks and Recreation offers and commit yourself to Play, Discover and Grow!
If you are interested in hosting your own event in the Star City or for further information, please see our Event Policy & Planning Guide and complete an Event Request Form.
Vendors
Our special events would not be successful without our outstanding vendors. If you are interested in becoming a food, exhibitor or arts and crafts vendor at one of our events, please fill out the Vendor Application or call (937) 866-8999 for more information.
If you would like to be a vendor at an indoor event such as the Home Party & Holiday Bazaar, please fill out the Vendor Application- Indoor Events or call (937) 866-8999 for more information.
---
Concert Line Up
Accessibility
All parking lots around the Riverfront Park have designated handicapped parking. The semi-circular drive is also marked for handicapped parking during Sunday concerts. Wheelchairs can be parked all along the sidewalks, on the lawn or on Miami Ave. Miami Ave. is closed to vehicle traffic during events. Restrooms are located within the park.
Children
Riverfront Park concerts and festivals are family-friendly. Our interactive Water Feature provides a great place for kids to cool off and play and is open May-September. Our Traveling Playground and/or Harmony in the Park are present during concerts and festivals. They provide staff, games and equipment for kids and kids at heart to play, discover and grow. Feel free to bring a ball, frisbee, or other play items as there is plenty of open grass area to play. Please be responsible for your children.
Food and Beverage
You are welcome to bring both food and non-alcoholic beverages (no glass please) to Riverfront Park. We have numerous restaurants near the park for dine in, before or after the concert, or carry out.
Soft drinks, bottled water, power drinks, candy and snacks are available for purchase in the park. All proceeds support our free concerts.
During our festivals (Spring Fest in the Burg, Rock n Green Tomato Festival and Miami Valley Bluegrass & Artisan Festal) and designated Sunday concerts, food trucks will be on site.
Parking
There is plenty of free parking in downtown Miamisburg. Look for the Event Parking Signs for the larger lots in proximity to Riverfront Park. All street parking and public lots are free anytime.
Weather Policy
Performances are presented rain or shine, but in the case of severe storms the concert may be delayed. Any delay or postponement will be made by the artist and venue management. All announcements regarding weather delay will be made on location via social media platforms. Only in a rare event will a concert be canceled.
Prior to the concert, check Facebook for any updates. During the concert, any weather-related messages would be conveyed onsite via loud speakers and online via social media.
Due to the lack of a permanent structure at Riverfront Park, if it has been determined the venue must be evacuated, patrons must exit the grounds and seek safe shelter until notified by the staff or social media.
Park Policies
Riverfront Park is a Miamisburg city park and falls under the policies of the City of Miamisburg's Parks and Recreation Department. For the enjoyment of all our visitors, please observe these rules during your visit.
During concerts and festivals please no skateboards, bicycles, or scooters inside the venue. Bike parking is available near the restroom building.
Pets
Well behaved, non- aggressive and non-disruptive furry family members can attend The Star City Concerts on Sunday evenings at Riverfront Park, but must always be on a leash and under control. Dog Stations are in the park for your convenience as you must clean up after your pet. While not all patrons are comfortable around dogs, we appreciate your cooperation as you sit near the rear or sides of the seating venue to enjoy the concert. Please consider if the concert volume is appropriate for your dog's sensitive ears.
Pets are NOT permitted at our larger festivals (Spring Fest in the Burg, Rock n Green Tomato Festival and Miami Valley Bluegrass & Artisan Festival).
Seating
Riverfront Park has lawn seating, sidewalk seating and street seating on Miami Ave. Miami Ave is closed to vehicle traffic during all events. You choose where you want to enjoy the concert. However, please bring a lawn chair or blanket for your enjoyment. Several picnic and benches are also available in the park. Mature trees in some areas of the park provide nice shade during the concerts.
Smoking/ Vaping
Smoking, vaping and e-cigarettes are only permitted in the designated smoking section located in the park, near the levy at Riverfront Park.
What to Bring
To make the most of your evening at Riverfront Park, bring a fun attitude, a lawn chair or blanket for relaxing, snacks or a picnic dinner. You might also want a hat, sunscreen, bug spray or other protection. If it looks like rain, a rain poncho or small umbrella. All concerts are held rain or shine.