Here's what's happening in Miamisburg Parks
Below is a list of projects and updates happening within Miamisburg Parks . If you have any questions or would like more information, reach out to us by calling 937-866-8999 or contacting us
Riverfront Park Updates
The Miamisburg Parks & Recreation Department has completed the concept design update for Riverfront Park. On Tuesday, August 16 City Council authorized a schematic and engineering design and development of construction documents contract with The Kleinger's Group. This is the final step before contractor selection and construction can begin on the project.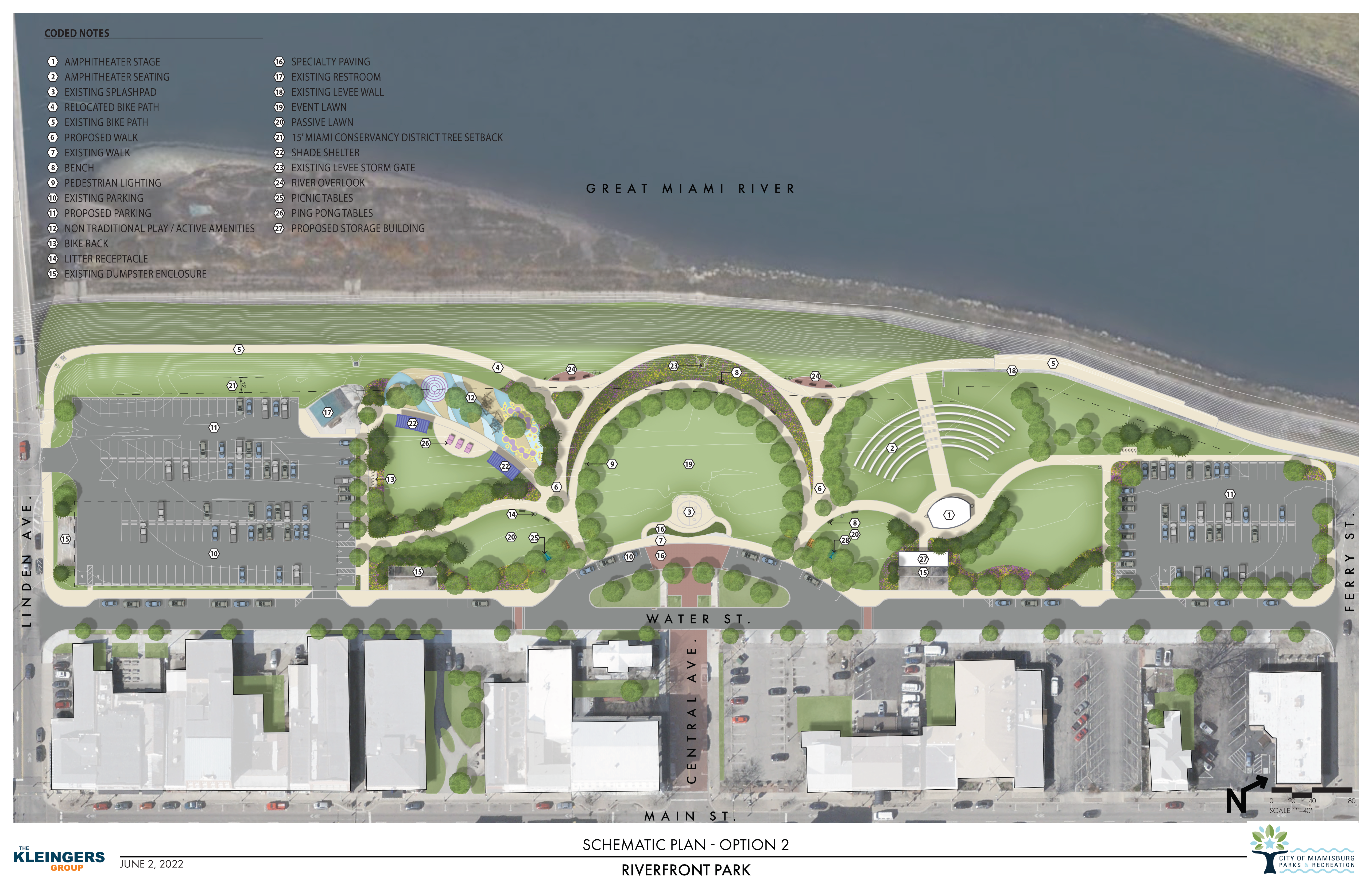 The approved Concept Plan for the park is show above. It includes the following key elements:
Curved Bike Bath/Traffic Calming/Levy Access Improvements
Additional 50 parking spots that remain open during events
Permanent Amphitheater with tiered "seating" area & event storage space
Central "great lawn" for passive use and focal space for events
Nature-Based Playground and Inclusive Play Spaces
Retains the current interactive fountain, "eyebrow" and archway
Enhanced park amenities, landscaping, lighting and infrastructure for events

Park Master Plan Update
The Miamisburg Parks & Recreation Department is in the process of updating its Park Master Plan. This process involves assessing and determining improvements necessary and prioritizing plans to make these improvements for the entire park system, at all park locations. In addition to this, the department is also in the process of updating design plans for Riverfront Park and Sycamore Trails Park, where improvements are planned for implementation within the next few years.
The survey below will help us get an understanding of residents and park users perspectives of improvements needed, needs of park users and assist with prioritization.