Star City Concert Series – Alexis Gomez
6:30pm - 9:00pm
Veterans Memorial Park
426 East Central Avenue, Miamisburg, OH 45342
---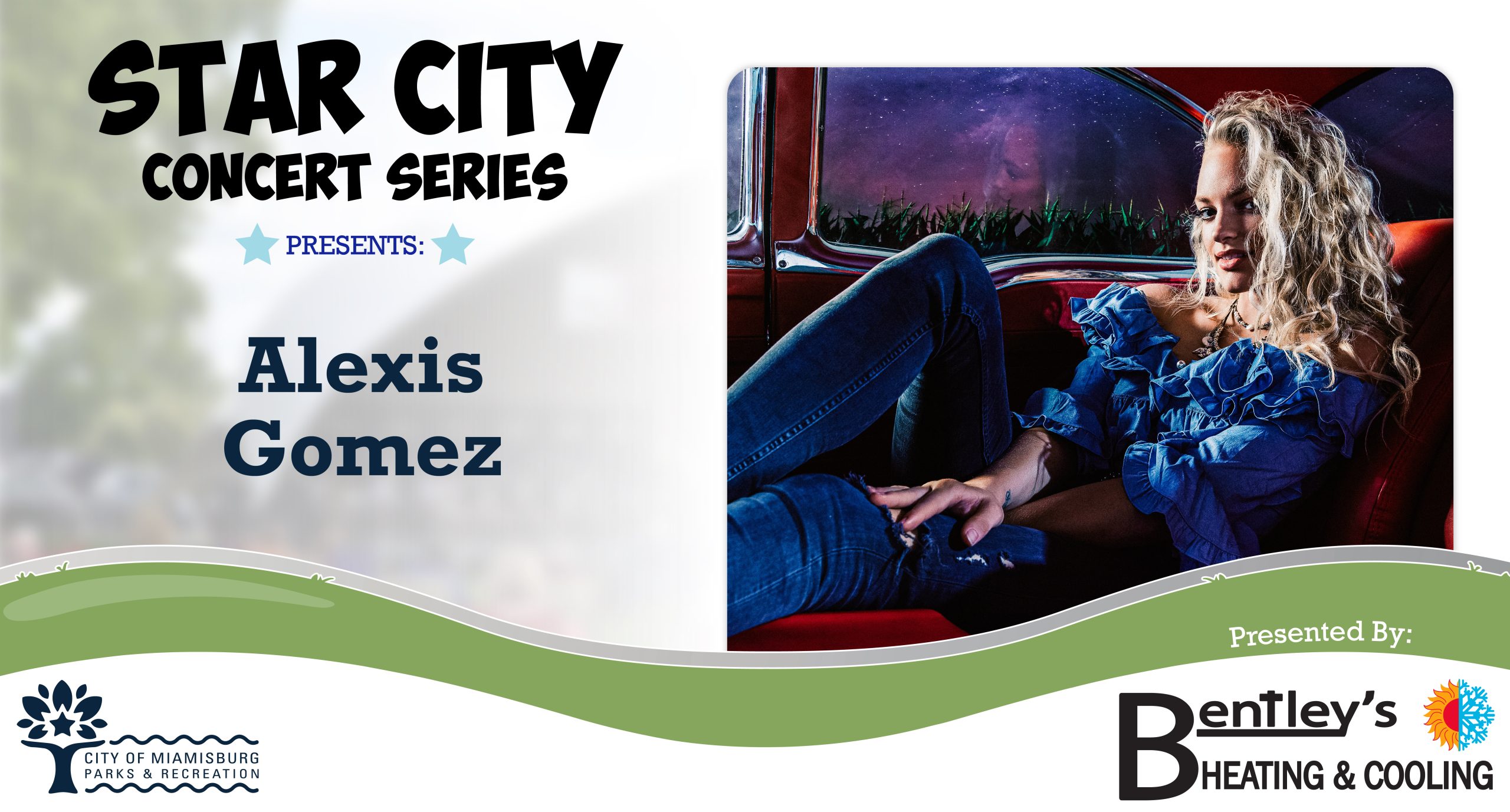 Join us at Veterans Memorial Park to enjoy an evening of entertainment! While Riverfront Park is under construction this summer, the Star City Concert Series will be moved to Veterans Memorial Park located at 426 E Central Ave in Miamisburg. Stop by the Miamisburg Parks & Recreation tent for a free handout during the first few concerts! Various food tucks will be in attendance this year as well as a special appearance by our Traveling Playground at some concerts. Stay connected with us on our Facebook page to learn more specifics or give us a call at 937-866-8999!
"Alexis has this insane charisma and look about her that really commands an audience." (AmericanIdol.net) Before she even sings a note, she draws you in. Her stage presence, energy and star-like quality, combined with her powerful vocals are exactly what has gotten her noticed in this industry.
Getting noticed is one thing, but it hasn't come without a ton of hard work. The Dayton, Ohio native has been singing and playing music since she can remember. Her dad, brother, and sister are all musicians, so following in their footsteps was inevitable! As she got older, she joined the family band and before long, she was stealing the show. Her talent as a musician, along with her clean country vocals have contributed greatly to her success. Her biggest accomplishment to date was finishing in the Top 8 Girls of the hit show American Idol. Alexis won America over instantly and let everyone know they'll be hearing more from this young lady soon. Alexis is even more than her incredible voice, her songwriting has also been greatly noticed and recognized over the years. She was a Top 10 Finalist in the Nash Next National Contest in 2016 & 2017- a radio contest to find the next Rising Country Star. Alexis will tell you "There is nothing I love more than performing live… "Looking into the crowd and seeing them sing along to your music is one of the best feelings I have ever had!" All of this has led her to playing over 700 shows in her professional career and opening for artists such as Randy Houser, Montgomery Gentry, Midland, Cassadee Pope, Clint Black, Old Dominion and others.
Alexis graduated from Wright State University with a degree in Spanish Education and was also one of the Worship Leaders at SouthBrook Christian Church in Miamisburg Ohio, her home church since she was a child. She will tell you, "I work hard at this, but at the end of the day, I know this is a gift that God has given me. I always try to remember that and thank Him every chance I get!
If you have ever seen an Alexis Gomez concert live, her talent as a singer, songwriter, and entertainer is undeniable! Come see her for yourself and experience the energy and fun that Alexis brings to Country Music!